---
The OCP dialplan tool maps over the Dialplan OpenSIPS module. The tool is used to perform modifications in OpenSIPS's dialplan rules during runtime. The rules are kept in a database and they can be reloaded into OpenSIPS from the web interface (see the Apply Changes to Server button).
The tool displays a table with the OpenSIPS dialplan rules, offering the ability to add, edit, clone or delete rules.
Following is an explanation of the actions performed by the buttons on the page:
"Search": Searches through the dialplan rules, displaying only the rules with the dialplan ID submited by the user.
"Show all": Shows all the dialplan rules from all dialplans.
"Clone Dialplan": Creates a new entry of the selected dialplan rule identical with the selected one.
"Delete Dialplan": Deletes all entries with a certain dialplan ID.
"Add New Rule": Inserts a form to add new rule into dialplan.
NOTE: all the changes are done in database. To apply them into your OpenSIPS, you need to click on "Apply Changes to Server" button
---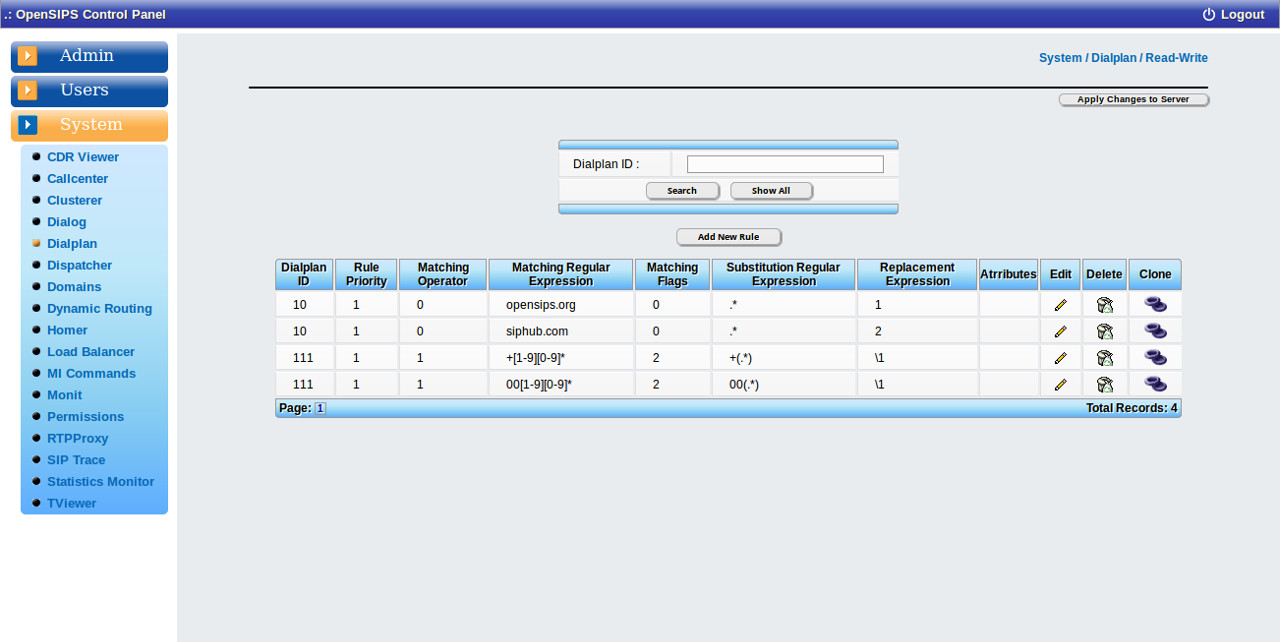 ---
Database layer configuration file :

opensips-cp/config/tools/system/dialplan/db.inc.php

Attributes set in this file :

database host
database port
database username
database password
database name

Local configuration file :

opensips-cp/config/tools/system/dialplan/local.inc.php

Attributes set in this file :

$config->table_dialplan

the database table name for storing the diaplan rules

$config->results_per_page and $config->results_page_range

control over the pagination when displaying the dialplan rules

$talk_to_this_assoc_id

As OCP can manage multiple OpenSIPS instances, this is the association ID pointing to the group of servers (system) which needs to be provision with this dialplan information.

$dialplan_attributes_mode

How the interpret the attributes of the rules: 0 - an checkbox with predefined value; 1 - an opaque string

$config->attrs_cb

If $dialplan_attributes_mode is set to 1, this array must define the possible attribute options. Each options is a char, the resulting string being the set of the options/chars that are enabled.


	$config->attrs_cb=array(
		// name , description
		array("a","Attribute a"),
		array("b","Attribute b"),
		);